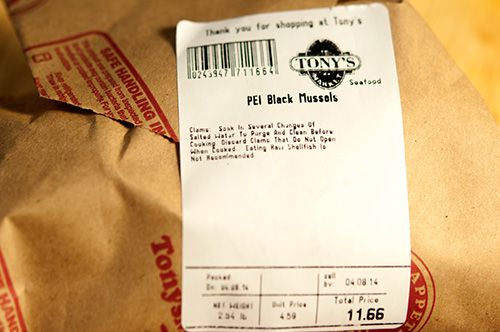 The sack of mussels was unpriced. A clerk ran back to the fish and chicken counter for the package to be priced.
At home I noticed the package of chicken is labeled and priced for mussels. Their chicken is unreasonably expensive, I must say, and mussels for some reason less so. Priced either way the number is not so far off.
Additionally, these were the best mussels yesterday that I've ever eaten, and I'm eager to share a meal like that with other people, and likewise, this chicken is among the most tender I've ever had. It is cut coarsely, coated and fried rudely and crudely but it cuts on the plate and it tastes as if it had been marinated tenderly in buttermilk. This is only half the dinner prepared tonight so now my attitude about it being unreasonably expensive is checked. Both purchases are worth the cost, worth the difference in cost between Tony's and regular grocery. If you can notice a difference between grocery store chicken and Tony's chicken, then it is worth the difference in cost. If you are as a child and cannot notice such differences, then it will not be worth the difference in cost.