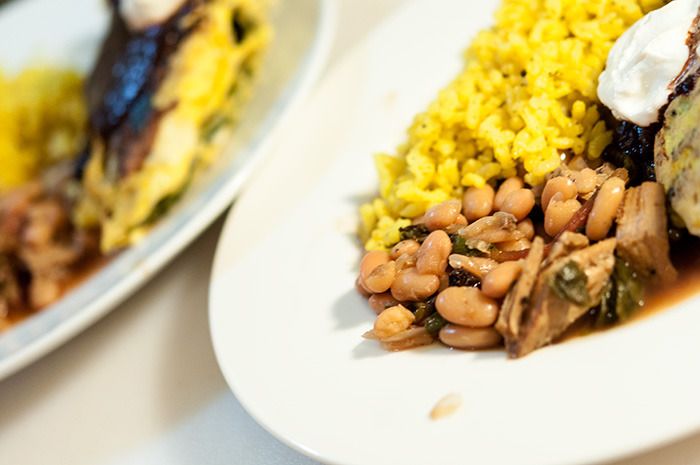 I never saw a guest clear their plate so thoroughly and so quickly. This is unusual. I notice that Joe does not eat that much.
"I can see you didn't like that so I won't bother offering more."
Joe laughed.
"Well, you didn't lick your plate."
The only thing on Joe's plate were smears and the stem of a poblano chile, and I am only halfway done with mine.
I must record, Joe kept remarking how fantastic this meal is. He told me about top restaurants in Phoenix, how he bought two sets of two tickets for well-known restaurants, how they all have great views but not one of them, not one, has food good as this. Joe is a bullshitter, yes, an unusually successful salesman by trade, yes, but it did sound perfect, and he did clear his plate surprisingly. And I feel the same way.
The combination on the plate is tremendous each element so homely so humble, the result so tremendously satisfying. The usual beans would be black beans but here I am using my own white beans with Swiss chard that has a pork chop in it and smoke included with a touch of sweet/sour. The beans are a meal by themselves and in combination with anything tastes even better. I had a bowl of these beans with a large spoonful of sour cream and I was in heaven.
The sour cream also moderates the lingering heat of the red chile sauce.
It is a small chicken breast and that is sliced laterally for two undersized chicken scallopini. The scallopini are fried in butter with salt/pepper, keeping everything simple.
The poblanos are roasted to deep flavor, left to sweat it off by themselves in a bowl covered with a plate and then peeled. And the chicken is cooked. Cheese is sliced. Once the elements are arranged it goes very quickly so the plates must be ready with the reheated rice and reheated beans with Swiss chard, right there at the pan where these rellanos are fried.
Rellanos are strange things to bread up and fry.
Because there is no being tidy about it. Three bowls. 1) Seasoned flour 2) scrambled eggs 3) panko bread crumbs
That is all usual, the unusual part is handling these conical shaped peppers sliced open without bothering with toothpicks that only make things worse
A small chicken scallopini is wrapped with the floppy roasted green chile and with a slice of cheese inserted as a booklet. The loose green booklet is pressed into the flour and coated. This allows the egg to adhere.
The dusted green chile pepper booklet is lifted into the whipped egg and coated completely. Now it is really a mess. The egg allows bread crumbs to adhere.
In this manner, a coating is built up with a crunchy breadcrumb outer layer. You still have bowls with some egg remaining and still some more bread crumbs remaining.
A pan is heated with butter that has bubbled, fizzed out and turned nutty brown.
"Oh, you just move the whole thing over."
Joe is watching on the other side of the dividing wall. He was surprised to see the wood-block cart moved next to the stove so that the mess of bowls with flour, scrambled egg, breadcrumb and messily coated chile-chicken-cheese booklets are right next to the hot pan.
The plates with rice and beans are on the counter on the other side of the pan, so, everything is close together.
The intention is use all the egg and all the bread crumbs. The rest of it is added in the pan while it is cooking, so, very fast. A bit of back and forth between the bowls of both whipped egg and bread crumbs, added to the pan in pools, then the coated chile relleno, then pour more egg over it, allow it to pool and roll it around as it is frying until the chile is coated and toasted all around.
It's fun to fry but a little different from other things. It's not exactly a stuffed chile within a crunchy conical pancake, but close. It is a way to think about how to cook the thing.
And it is wonderful if not a bit of a fried mess. The depth of the roasted chile flavor cannot be overstated and this combination delivers two doses of it in both green and red forms. The red sauce has a very deep flavor on its own, one taste from your fingertip says so. The two together, deep red sauce, deep roasted poblano, with cheese melted in there are all awe-inspiring flavor combinations, so powerfully reminiscent of some lost ancient home and hearth that the chicken becomes nearly incidental, but of course it is not, it is the thing at the center of the glorified wrapping.