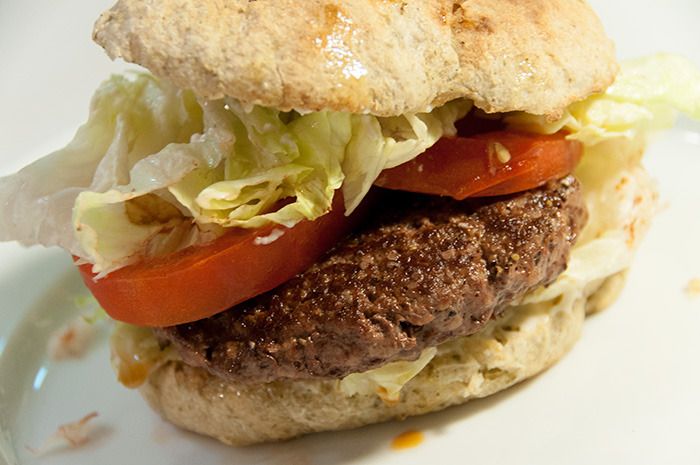 The mad bread-making skillz set in my posession is like a gift given me from my younger self. Thank you, Younger Self, it is one of my favorite things from you. I enjoy it all the time. I never have buns this good in the outside world except rarely, like at Bittersweet restaurant, they are one of few exceptions that prove the rule. Others have very good bread, but not so good as this. The bun was difficult to cut because it was so light and so fresh and it toasted on both sides very lightly to a tender crunch. Delightful, right out of the oven like that, then right out of the toaster. You don't see that. The meat is is just meat, eh, but the bread is really something.

Here is what makes this bread so excellent: 1 tablespoon buttermilk powder included with the flour. The dough was exceedingly wet. I ran out of flour and didn't want to open another package, so I stirred the dough as much as kneaded it, then coated the dough with oil to form the buns with oiled hands leaving the dough wet with water throughout and wet with oil surface. I thought the acid in the buttermilk would interfere with the yeast but it didn't. The wet dough allowed for a thin skin. The buttermilk makes the skin incredibly attractively light and crispy when toasted. They are impressive dinner rolls.
The lettuce is old and so is the tomato but that does not matter. This is one of my favorite hamburgers because of its rye/oregano bun and because of its simplicity. All impulses were denied; cheese, mustard, avocado, onion, garlic, chile, pickles, none of that.