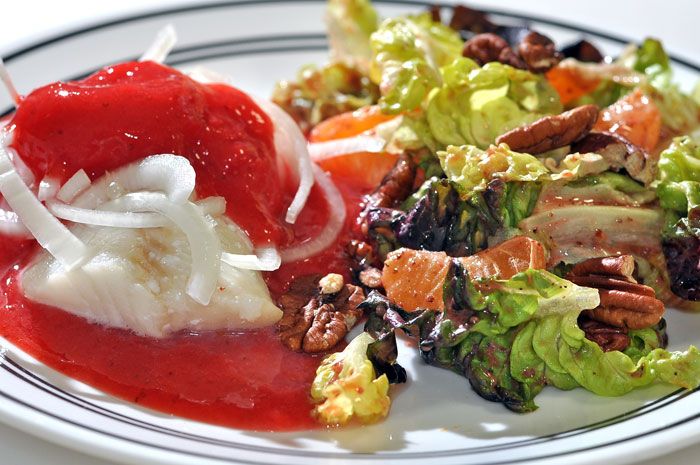 Cod center cut loin, that is how it is marketed anyway, I never heard of such things. Onion relish. Strawberry coulis. Green salad with small seedless Clementine oranges and pecans. Mustard vinaigrette sweetened with the coulis.
The cod is room temperature, the coulis is chilled. The orange segments in the salad are chilled. The pecans were heated briefly in a pan to activate their oil.
ARTS !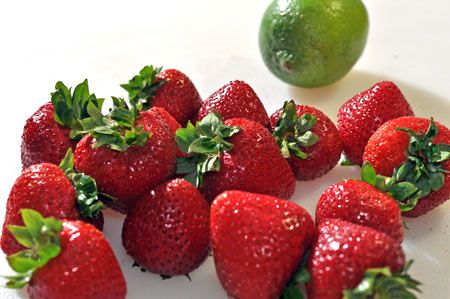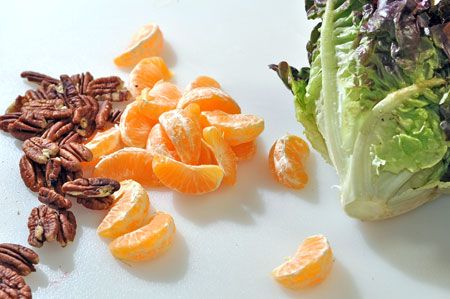 The cod is poached briefly in a flavorful liquid off the heat, after the liquid is brought to a boil to activate its ingredients.
Cod poaching liquid:
* 2 cups water
* 15 or so peppercorns
* 1/2 teaspoon fennel seed
* 3 bay leaves
* 1/4 teaspoon hot chile flakes
* 1/2 teaspoon kosher salt
EDIT * 1/2 juicy lime (sorry, I forgot)
Heat the seeds in a pot to get them going then add the water and remaining ingredients. I suppose it wouldn't hurt to crumble or cut up the bay leaves since the liquid will not actually be stewing for any great length of time. Let the liquid boil for a few minutes. Remove the pot from the heat source. Add the fish. Observe the fish denature and remove as soon as it is finished. The point is to cook the fish as briefly and gently as possible.
Strawberry coulis:
* two cups cut fresh strawberries
* 2 level tablespoons cane sugar
* 1/2 juicy lime
Blend the ingredients thoroughly. I didn't bother with straining out the seeds. I think they were completely blended through. I used an emersion blender but a regular blender does the same thing. Most recipes call for 1/4 cup water but I found that unnecessary. Some recipes call for frozen strawberries, some cook the strawberries. This coulis is merely blended.
Vinaigrette:
* 3 tablespoons olive oil
* 1 tablespoon cider vinegar (or any vinegar you wish)
* 1/2 teaspoon stone ground mustard
* 1 tablespoon strawberry coulis (or strawberry jam, or honey)
* salt and pepper
Onion relish:
* 1 small onion cut thinly
* 3 tablespoons cider vinegar (or any vinegar you wish)
* 2 tablespoon cane sugar
* water to cover
Shake the ingredients in a jar and refrigerate for a few hours.