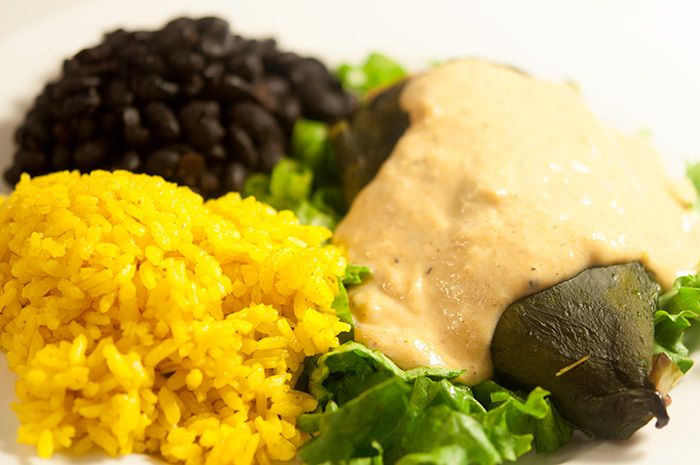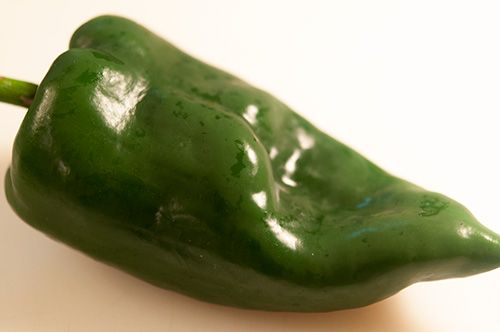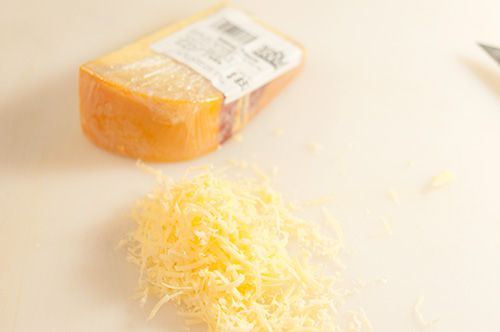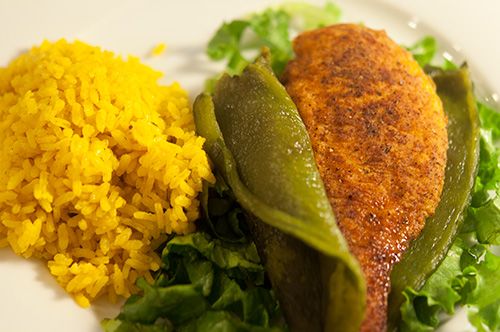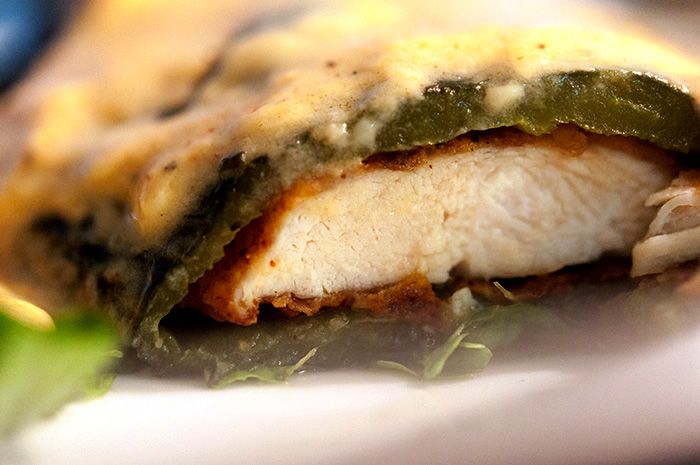 I nicked the idea for this meal from a restaurant nearby called Zócalo (plinth, plaza, the main square of a town) where the booth that I sat is blown out and repaired with duck tape. My kind of place. The people are lovely. It attracts an appreciative crowd.
This is the best meal that I've made for myself in a very long time. Each element hits the spot. But ultimately it is not the sort of meal to make for one's self for lunch due to the work involved preparing each element. Best to do those things separately and hold restaurant style for a family or for a large dinner party. Then all the effort will be worth the time and the trouble of preparation and clean up.
The poblano is roasted, sweated, and peeled. Several steps right there. A béchamel sauce is prepared the usual way with nutmeg, chile powder and cheese, another series of steps. Spanish rice is flavored and steamed. Black beans prepared and that does take time. It is not a simple matter of opening a tin. Lastly, a chicken breast is floured and rapidly fried and all that makes a big pile of dishes and pots, the broiler is used and three stovetop burners. Then the elements are brought together for one extraordinary whole. This would wow the pants off your family or guests.
The Robusto cheese that I used here is available from only one place, Whole Foods, they have the exclusive for this brand. I learned that by asking for it at a specialty shop nearby and frustrated the cheese guy said, "No. Those guys own the world. People have asked for it before." If you go to Whole Foods I recommend buying a wedge and you'll see for yourself what the fuss is about. The precut wedges are disappointingly thin so I bought two to make sure that I have it around.
In
The Fort Cookbook
Samuel Arnold writes his Cuban chef referred to black beans as the Rolls-Royce of the bean world and I heartily agree.
Rice is steamed in a pot the Japanese way, twenty-five minutes on low and without opening the lid another ten minutes off the heat, then fluffed with a fork. The difference here is starting as with risotto, frying the granules in butter before adding water. I used turmeric for color and flavor rather than anatto or saffron, and few other regular herbs chiefly Mexican whole leaf oregano.