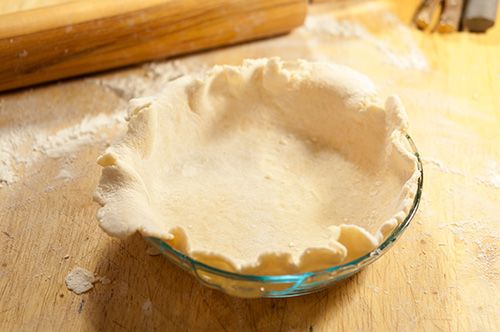 This is a very small pie in a seven inch pan.
A traditional crust of flour and butter is prepared, not Graham cracker as recipes have it. Ice cold vodka is used in place of water for its evaporative quality. The surplus dough used to form entwined vines. None of that is traditional.
Crust:
3/4 cup all purpose flour
2 T cold butter
1 T sugar
1/8 t salt
less than a shot of vodka, enough to bring together to a rollable dough.
Filling:
3 jumbo egg yolks
2 T sour cream
2 T Philadelphia cream cheese
1 14 oz tin Eagle brand sweetened condensed milk
3 limes juiced
2 limes grated peel
Pie shell and decoration baked at 400 for 10 minutes
Filled pie baked at 350 for 25 minutes.
What makes this pie fun to make is observing the filling thicken the moment lime juice is added. It's magic!
But not enough to cut, it thickens to pudding consistency, and the eggs are still raw.
The pie sets further as it cools.
Usually the egg whites are whipped for meringue. Sometimes cream is whipped.
This version departs from traditional recipes, it is a bit of a cheesecake, but not much. all those ingredients can be varied. There is broad margin for trial and error.
I didn't bother with a water bath. For a larger thicker pie with more cheesecake elements then I would consider doing that.
I forgot to add grated fresh ginger, sitting right there, and that bums me out. But it goes to show you, eh, who cares?