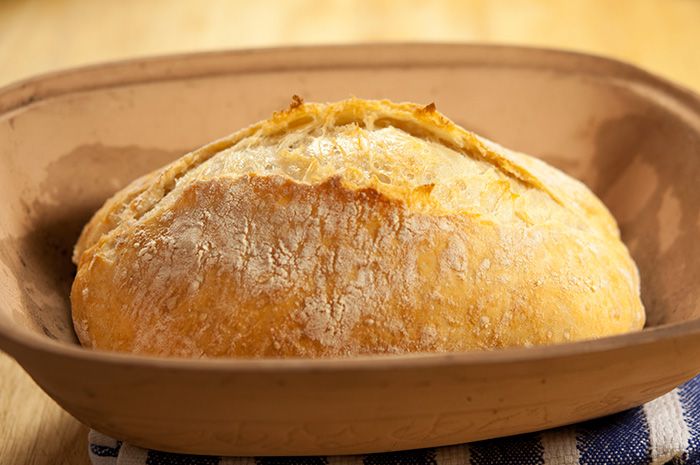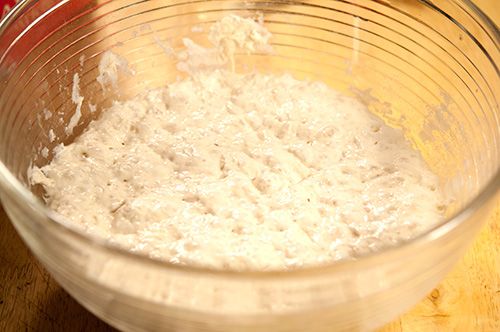 This dough is 2C all purpose flour and 1C water. That is 8 oz flour, roughly speaking, and 8 oz water precisely speaking that in Baker's terms is 100% hydration, a rather high ratio of water to flour, that is, a very wet dough.
It also has 1/4 tsp commercial yeast, and 1 tsp flaky kosher salt.
The dough is mixed but not kneaded and left alone for 10 hours or thereabout. When tuned out onto a dusted work surface the dough is stringy.
A flat blob is deposited on the work surface. An edge is lifted up and pulled to its extreme opposite, Then another edge, then another edge, and so on, until the entire edge around has been lifted up and folded over back onto itself, lifting with it the light dusting of flour previously brushed over the work surface. The idea is to form a taller and tighter blob of some reasonable shape.
The new tighter blob sits there covered while awaiting the oven to heat to its most extreme with a clay cloche inside becoming hot too.
The dough bakes quickly inside its covered cloche, 25 minutes will do. The lid is removed, the oven shut off, and the loaf stays in the oven an additional 10 minutes to dry a bit and darken further. Losing its water, the loaf become light.