Cheese sauce, simple.
Mustard vinaigrette, simple.
Panko breaded sliced chicken breast, simple.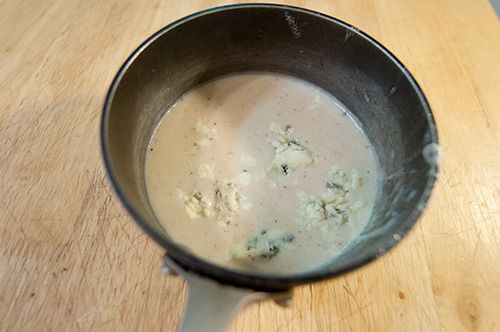 1 Tablespoon butter
1 Tablespoon flour in a tiny pot. The idea brown the butter and toast the flour. The degree of toastiness in both determines the darkness of the roux. Flavor however you wish.
1 pinch salt
1 grind pepper
1/4 teaspoon Santa Fe chile powder
2 Tablespoons crumbled bleu cheese. (This cheese is not the best idea. Other cheeses are better. The blue mold does not mix and the flavor is off for this)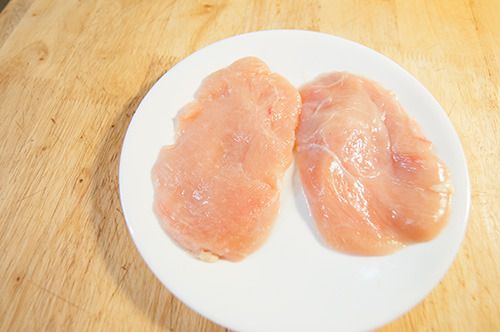 The chicken breast is too thick so it it is sliced laterally. This will allow it fry faster and its timing with the bread coating will match.
Atypical dredge, drench, dredge method. Only two bowls are set out. One with beaten egg and the other with flour seasoned however you like, s/p, certainly, here with Santa Fe chile powder and tiny amount of garlic powder. Just enough to cover all pieces of chicken, the same bowl is used for panko. A savings of 1 bowl.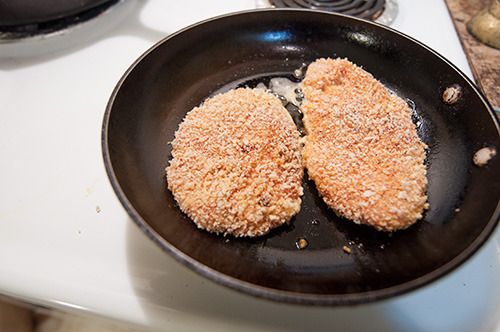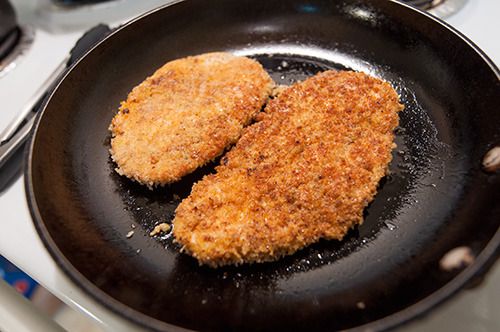 While this is going on attention is turned to assembling a vinaigrette.
Prepared mustard is squired into a bowl, a small amount. Olive oil is poured into the bowl, a small amount, as much need to lightly coat the leaves. Vinegar is drizzled into the bowl, enough to offset the oil, to punch through it without overwhelming it, about 1/3 the amount of oil. Any other season you like, certainly salt and pepper. Honey would be nice or anything sweet like fruit preserves. Whisk. Tear leaves, add other vegetables. Do not mix, hold until service. The dressing sits at the bottom of the bowl until you are ready or else the lettuce will wilt.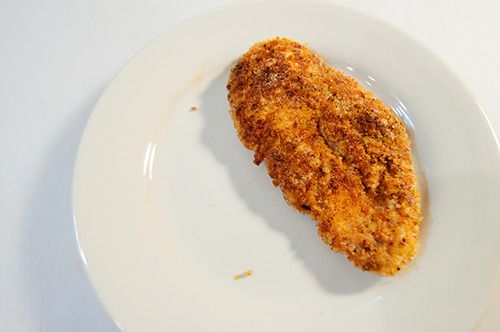 The tin says hot but don't let that scare you, it's all mitigated by the sauce.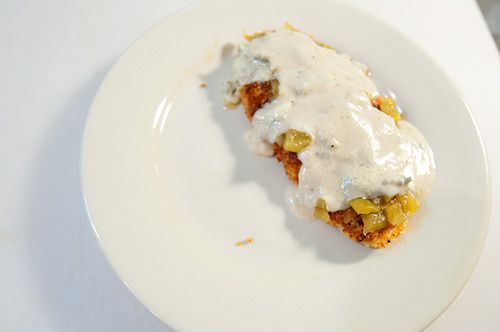 We have here extreme flavors of mustard, chile and blue cheese, three big flavors right in the chops and the thing that punches through all that is the mint in both salad and topping, distracting from everything else going on by commandeering your entire nasal cavity with its insisting takeover.
The meal has variety in texture, color, interest, variety in flavors, harmony and competition. Win.