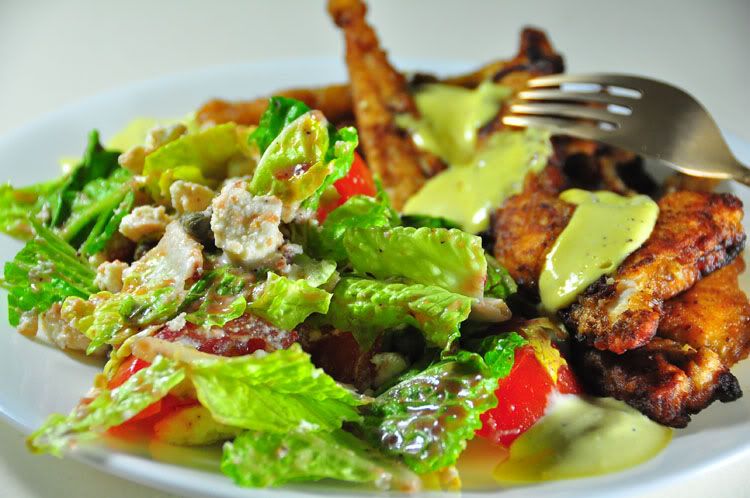 Dressing:

* olive oil
* rice vinegar
* raspberry preserves
* Dijon style mustard
* prepared horseradish
* salt/pepper

Salad:

* romaine
* tomato
* home-made ricotta cheese
* capers

Catfish coating

* flour
* anjo chili powder
* garlic powder
* salt/pepper

Coating to batter

* milk
* whey

Dressing for catfish

* home-made ginger/garlic mayonnaise

Ever see Vince Offer, the Sham Wow spokesman,  the guy who wears the head-mic and crams a sixty-second spot into fifteen-seconds? Now he's pitchman for Slap Chop food chopper. He's such a douchebag, he issues a declarative, "You love salads, but hate making them." Wrong! I like salads and love making them, so shut up, Douche. I can't hit the remote fast enough to make that douche nozzle disappear, second in annoyance only to Billy Mays, who reminds me of Bluto on the Popeye cartoons, except with the noise of Brian Blessed who is so ear-splittingly loud he breaks windows within a quarter mile radius by playing charades.

So anyway, the catfish is cut into bite-size bits following the lines of the filet, dredged in the dry flour mixture to help the batter adhere, then milk + whey is added to the flour mixture to suitable thinness and the powdered catfish bits are drenched in the batter. The batter can be lightened with a touch of baking powder but I didn't feel like it tonight.