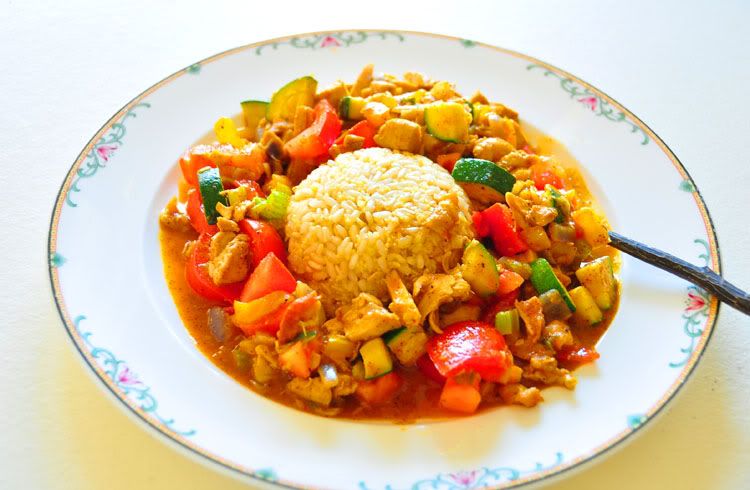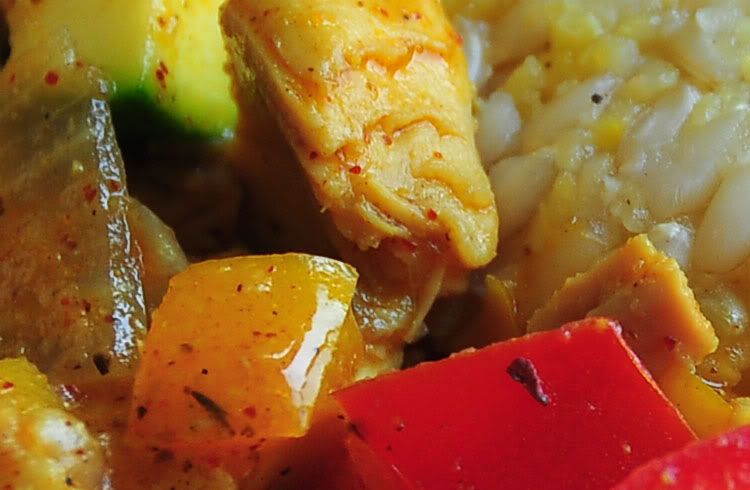 * Chicken roasted previously, coated skin and all, sitting in the refrigerator waiting for something to happen. Picked off from the bones, the bones reserved for stock.

* Brown rice from the bulk bins at Whole Foods. There's a variety of brown rices available, judging by cost, this was the lamest kind. There were little green grains in there too. I do love those bins, mostly for experimental purposes. Steamed for 45 minutes, 15 minutes with the heat off, the cover never removed. It could have gone another 5 or so minutes without damage. A few tablespoons of milled corn meal also labeled polenta added on a whim at the beginnin of cooking because Joe and I had it at a Cuban restaurant and it tasted pretty good combined. To mold the rice, run water through a ramekin and dump it out, press rice into the dampened ramekin and invert over a plate.

* Onion. All the scraps I collected, plus one half purple onion, 2 stalks celery, one yellow bell pepper all sweated together in olive oil and sprinkled with salt.

* Small zucchini quartered lengthwise then diced added at the end so it cooked only a few minutes. Nothing worse than soggy zucchini. Well, probably some things are worse, but limp soggy zucchini is not very pleasant.

* Two plump tomatoes added at the very end after the heat was cut so it didn't cook at all save for the carry-over heat from the stew

* About 8 or 9 chicken broth ice cubes. (not bullion cubes, but rather frozen broth made previously) I kept adding broth ice cubes until the desired consistency was achieved. The breading on the chicken thickened the stew.

* A full tablespoon of Madras curry was heated in another pan until the aromas wafted up. Added to the stew. Tasted, not nearly enough flavor, so another full tablespoon was heated in the same pan along with a teaspoon of chipotle chile and long grind of black pepper. Tasted again, added kosher salt.