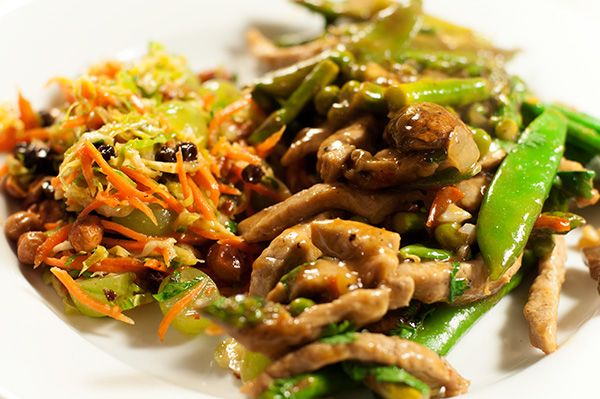 Dressing for cole slaw coats but not drowns Brussels sprouts that changes their taste to something different entirely. Sweetness of carrots and currants and cut grapes and generous honey with mustard overtakes the cabbagy bitter flavor of shredded leaves. This cole slaw is delightful. Raw peanuts pan heated and flipped continuously until toasted when added they sizzle the wet mixture.
Pork, sugar peas, regular peas, and mushrooms with onion and garlic are sautéed then doused with liquid containing Asian elements, water, cornstarch, Hoisin sauce, ginger, soy sauce and toasted sesame oil and dry red Thai chile broken into flakes. These are fried quickly in a hot pan, then off the heat and served within two minutes.
This meal is like a party. Chopped like this there is very little chewing and no cutting at the table, just shoveling it in. The stir fry is hot and the cole slaw is cold.
The thing about this meal is that it fills you up and five minutes later, hungry or not, you are yearning for more. Good thing is, you can have it.