The sauce is very good; honey, sake, soy, fish sauce (fermented anchovy). That's it.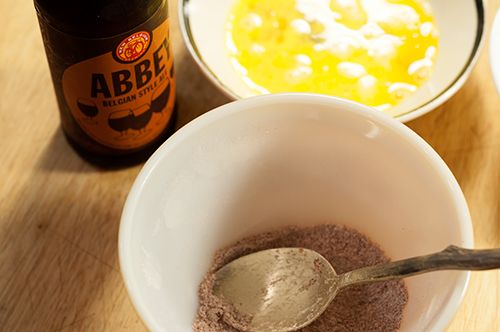 The dry elements for the batter are a little bit different than usual, rice processed to powder in the coffee bean grinder, flour, red chile pepper powder, a lot of it, half an egg and cold beer.
Slices of chicken breast are first dusted with combined powders, then liquid elements, egg and beer added to the powder in the bowl, the dusted chicken pieces are dipped in the batter and shallow fried. The pieces fry quickly and do not stay good for long so this part of the meal is the last thing to do, the rest of the meal already finished and ready to be plated. Cut against the grain, the chicken cooks very tender.
The rice is steamed for 35 minutes, 10 minutes just sitting there covered off the heat. It has scant saffron threads as it steams and chopped scallion added after it is cooked along with the remaining half beaten egg. The rice too is very good tasting.
Frozen peas dusted with the same tempura powder, cooked in the microwave with butter with a few tablespoons sake or vermouth.